THE CORE FOUR:
(left to right)
Bill Scheft – Drums and vocals
Gabriel Fabella – lead vocals and Fender Tele rhythm guitar
Roger Lipson – Hofner bass, sitar, vocals
Steve Goodman – Farfisa organ, keyboards, harp, percussion and vocals
BILL SCHEFT (drums, vocals)
The Author. Former corner man for Dave Letterman.
1967-69: Fessenden School band (bass drum, snare)….1971: Deerfield Academy pep band (cymbals)….1978: Quincy House Talent Show Winner (Harvard College) for Joe Cocker impression….1982-92: Opening act (Stand-up) for Tower of Power, Leon Redbone, Steve Forbert, Sheena Easton, Burton Cummings, Jay Black….1984: Broadway Show Softball League, doubled off Meat Loaf….1990: After set on "Evening at the Improv," host Little Richard told him, "Shut up!"….Influences: Richie Starkey, Dino Danelli, Chip Damiani, Anton Fig, Tom Scheft….
Bill's website Bill's blog Bill on Twitter
GABRIEL FABELLA (vocals, guitar, percussion)
The Voice. Day gig: Women's shoes, Macy's Herald Square.
Did his first Truants gig a week after his second daughter was born….He and his classic Fender telecaster just celebrated their 25th anniversary….Is equally and unfairly comfortable and adept doing Paul, John, George, Mick, Elvis, Eric Burdon, Gerry Marsden, Mike Smith, Ray Davies, Mark Lindsay, Felix Cavalieri, Del Shannon, the Sonics Gerry Roslie or anyone else you call out….Born and raised in the Philippines, his longtime band The Dilettantes, performs his original Tagalog rockers such as "(Si Altar Na) Eddie Peregrina" and "Eto Na…."
Gabriel on Facebook
ROGER LIPSON (bass, sitar, vocals)
The Pro. Day gig: Working for The Man.
Hofner bass artist who has been featured on the Hofner website….Plays the iconic Violin "Beatle bass," the Club bass and the CT-185 reissue bass (think Fender Precision)….Among the venues: Lincoln Center's Damrosch Park; Joe's Pub; The Highline Ballroom; B.B. King's in Times Square….Influenced first by The Beatles and later Ravi Shankar, he took up the study of the sitar. Roger has performed at over 200 Indian weddings across the nation….His music and playing has been featured on the Easy Star All Star's "Lonely Hearts Dub Band" (#1 on Billboard for 18 weeks); the film "Our Idiot Brother"; the TV show "Nova" and The Cringe album "Tipping Point"… Has played with members of Styx, the Billy Joel Band, the SNL house band, The Fab Faux, Hall and Oates….Scorpio….Loves spaghetti Bolognese and curries….Favorite color: green.
Shaadi Ki Shehnai Roger Lipson
STEVE GOODMAN (keyboards, harp, percussion, vocals)
The Kid (only Truant under 50). Day gig: Social Studies teacher.
Got his first Farfisa at 8. By 14 he was at Beatlefest performing in an all-kid Beatle tribute band, Applesauce…. Former bands include Life Out of Balance (an alternative World Beat/NewWave/Post Punk ensemble in which he played the accordion), Infradig (drummer for the East Side thrash punk project) and The Vonghouls (psychedelic punk force hatched in the garages of Rockland and Westchester counties)….Hooked on Beatles since birth, but his influences stretch from Bach to Fats Waller to the Doors and Vanilla Fudge, which explains stint as a salesman in the classical music and jazz sections at Tower Records….Untreatable, unapologetic concert junkie….Owns every Spiderman and almost every Batman comic book ever published….Makes his own firewood….
The Vonghouls Infradig
THE AXES: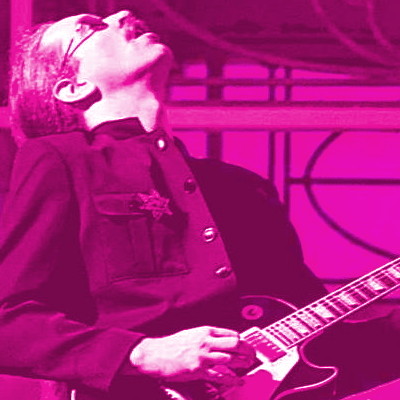 JOHN MERJAVE (guitar, vocals)
There is no room on this page for all his credits. Lead guitarist for Liverpool, the house band at Beatlefest. Lead guitar and vocals for the Beatles-inspired recording artists, The Weeklings. Guitar chair for Live and Let Die: A Symphonic Tribute to Paul McCartney. And a host of other projects, covered and uncovered, plugged and unplugged…. One of maybe 26 guys on Earth who has only made his living as a musician….He loves playing with us because we play the songs he doesn't get to play anywhere else….Only discernible bad quality: Yankee fan. John's website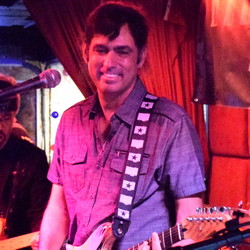 DIAMOND DAVE DILORENZO (guitar, vocals)
Steve Goodman brought Dave to a rehearsal last May. 30 seconds after he plugged in, we realized we were auditioning for him…. Dave toured with Champion in the late 80's and most recently as the guitarist for The Party Dolls who recorded 2 CDs and played shows coast to coast….He has shared the stage with The Beach Boys, Little Richard and Chubby Checker….Over 2500 live shows played, over 200 rehearsals attended….Musical influences: Ace Frehley, Alex Lifeson, Michael Schenker, Galeazzo Frudua….Likes: Rush, NASCAR. Dislikes: The Doors, parking tickets….