It all started with a book.
In 2005, I published my second novel, TIME WON'T LET ME, about a prep school garage band that tries to reunite 30 years after discovering the album they made in 1967 is now worth $10,000. The book was inspired by the true-life tale of my brother Tom's band, The Rising Storm, which formed at Phillips Academy in 1965 and two years later recorded an album, "Calm Before," that years later became quite coveted among collectors of that underappreciated genre. Over the last five decades, the Storm has reunited many times, always by popular demand, and four years ago, played three dates in Europe, opening for the Yardbirds at the garage festival in Rotterdam.
It's a wonderful story, but it's someone else's. In my book, I made the band, its personalities, its history and its pursuit of resurrection much more chaotic. That's the wonderful thing about fiction. You get to make shit up. So, Phillips Academy became Chase Academy, 15 years later became 30, $5000 for "Calm Before" became $10,000 for "Out of Site." And The Rising Storm became The Truants.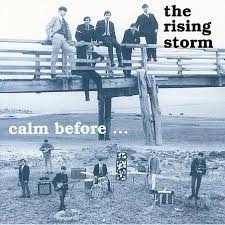 And then a funny thing happened. The book came out, and people I never met wrote me and said, "I've been playing music for 30 years. This is the most accurate account of a band I've ever read." I was flattered, because I had never been in a band. I had learned how to play the drums at eight by watching my brother and every once in a while when I was on the road as a comic, some guy playing upstairs or across the street would let me hop behind his kit for a couple of songs.  Nothing taxing. "Twist and Shout," "I Saw Her Standing There," "Secret Agent Man." You get the idea. When I stopped doing stand-up in 1993, I don't think I held a pair of sticks for ten years. But like Chip Damiani, the great drummer for the Remains, told my brother and me, "The years you don't play don't matter. Once you're a drummer, you're a drummer."
In August, 2006, I went to Otto's Shrunken Head on 14th Street and Avenue A in Manhattan to see the Howlin' Thurstons, a surf band whose bass player, Kevin Holmgren, had written an incredible review on Amazon for TIME WON'T LET ME. They were great, and during the break I introduced myself and told Kevin the only thing that would have made it better would be if his drummer had dropped dead of a heart attack. "You're a drummer?" he said. "Yeah, but I never ever play. I would love to be able to go somewhere and just play with other people," I said. "Well then," he said, "you should join The Studio."
The Studio is a musicians collective on 30th Street between Seventh and Eighth Avenue, which has rehearsal space, offers workshops, open jams and generally tries to bring together all levels of players. I joined the following month and spent the next three years playing at various weekly jams.  After three years, I had improved to the point where I was better than I imagined but still not as good as I thought.  I knew I was tired of spending four hours at an open jam just keeping time and maybe playing two songs I loved. Seriously, how many times can you do "Like a Hurricane?"
We're getting close to the point of all this.
A month shy of my 53rd birthday, I made a decision. I would try to start a band. We would do British Invasion and garage music. And NOTHING after 1967. This was the music I grew up on. The music I first saw live from the Rising Storm. There was a note-for-note guitar player from The Studio, Joe Gagliardi, a kindred spirit who I knew from jams and an ill-fated workshop that I was sure I could lure if I got the right complement of like-minded guys. So, I put a no-nonsense ad on Craigslist ("Beatles, Stones, Kinks, Raiders, Sonics, Standells. I will pay for ALL rehearsals. If you need lead sheets, don't bother to show up."). That's how I was lucky enough to find Gabriel Fabella, an unfairly versatile singer and rhythm guitar player, and the Hofner-toting bassist Roger Lipson. (Roger had too many other commitments at the time and was unable to join us for good until 2012.)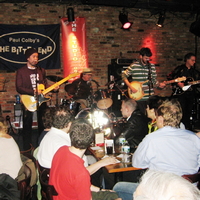 Our original lineup was myself, Joe, Gabriel, 22-year-old Yale graduate Daniel Blech on bass (another Craigslist find) and Mike Berman on keyboards. Mike was a bass player looking to expand his rock 'n roll reach who had put a classified ad on The Studio's website. "Are you familiar with these songs?" I called and asked. He laughed. "I was playing them when they were on the charts." We started rehearsing in March, 2010. The first time we played out was July 22, a Studio-sponsored showcase at the Bitter End. Six weeks before the gig, I took the guys out for a drink after rehearsal. Gabriel said, "We have to name the band."
I had been waiting for this. "Look, we can name this band anything," I said, "but if you could indulge me for the first gig, as an inside joke with myself, I'd like to name us after the fictional band I created. Just for one night, I'd like to be The Truants."
And they all said, "Oh, no. That's the name."
And so it was. Here's the set list from July 22, 2010: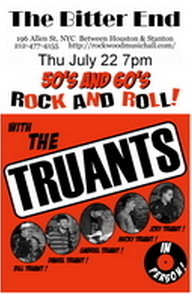 All My Loving
Ticket to Ride
Route 66
We Gotta Get Out of This Place
Kicks/Have Love Will Travel
Telstar
I Feel Fine
Shakin All Over
Dizzy Miss Lizzy
It's All Over Now
Boys
Many gigging years later, the mission statement remains the same, albeit with slightly different personnel. In Spinal Tappian fashion, we went through five bass players before Roger returned, and when he did, he brought Steve Goodman with him to assume the keys.
Now you're all caught up. The Truants. It all started with a book. Ideally, it ends with bookings.